Posted under:
Implants
Posted on: May 27, 2016
How Do Dentists Treat a Tooth Fracture?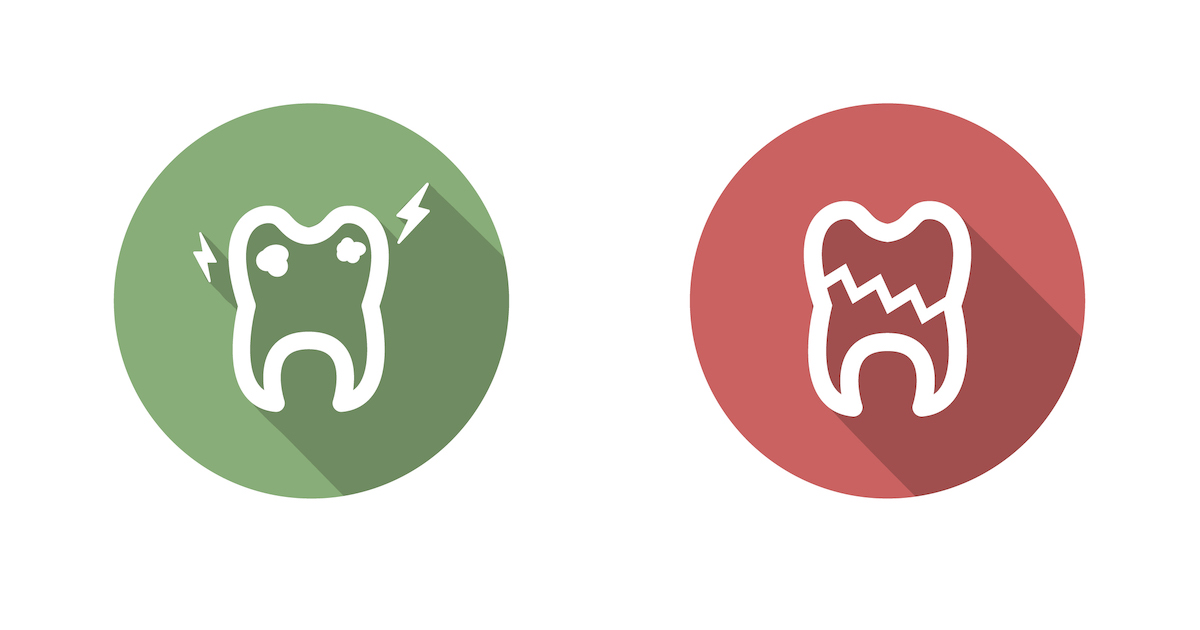 If you're wondering what to do about your fractured teeth, this helpful guide details the affordable dental care treatments that can fix a fracture with ease.
What Are Fractured Teeth?
A fractured tooth is the name for a tooth that's been chipped, cracked, or broken. Regardless of the degree of damage, fractured teeth must be examined by a Dentist in Northern Virginia at the first sign of mouth pain or problem to prevent them from getting worse. To understand fractured teeth, you need to know about the structure of the tooth.
The Crown – The top portion of the tooth that's visible above the gumline.
Tooth Enamel – The protective hard, white top of the tooth
Dentin – A protective yellow layer underneath the tooth enamel, yet above the tooth's pulp
Pulp – The tissue inside of the tooth surrounding its nerves, yet above its roots and bone
What Are the Best Types of Treatment?
The first step in getting treatment is seeing a Dentist in Northern Virginia as soon as possible. Only then can your fracture be examined and the right treatment can be prescribed. During this examination, a series of oral tests will be performed. If the fractured tooth is difficult to locate with these tests, then dental x-rays will be needed to determine the source of the problem. The treatment for the fracture will depend on its severity and extent. Most affordable dental care specialists prescribe the following treatments for each form of fracture:
A Simple Sedative Dressing – For mild fractures, a Dentist in Northern Virginia may decide to only use a sedative on the tooth to relieve any pain. The tooth would need to be re-examined in a few weeks to see if further treatment was needed, and then monitored over the next year.
Dental Bonding – Ideal for serious fractures that make a tooth loose and cause your gums to bleed, bonding can prevent the tooth from falling out. It involves bonding the loose tooth to the nearby teeth to keep it in place while the tooth's tissue and bone heal.
A Root Canal – To treat a tooth fracture that's highly likely to get infected, a root canal may be required before proceeding with another treatment.
Extracting the Tooth – This treatment is reserved for the most serous cases where the fracture extends through the entire tooth to its roots and prevents the tooth from being restored. As a result, the tooth will need to come out. After the tooth is extracted, the Dentist in Northern Virginia will typically replace the tooth with a dental implant. Be aware that the area needs to be monitored closely over the next year and may require a future root canal or other type of treatment if the tooth's pulp gets affected or infected.
To get the dental care you deserve from an affordable dentist in Northern Virginia, call Northern Virginia Oral & Maxillofacial Surgery Associates today or make an appointment.
Northern Virginia Oral & Maxillofacial Surgery Associates offers affordable family dentistry and gentle, compassionate dental care in Northern Virginia. Our offices are conveniently located with extended hours to meet your needs. At Northern Virginia Oral & Maxillofacial Surgery Associates, we provide most dental services, from basic preventative care and general dentistry to specialized procedures and complete dental reconstruction. We accept most dental insurance plans and offer affordable financial solutions for any budget. Patient satisfaction is our top priority and we strive to provide the exceptional, affordable dental care and personal touch that lead to lasting relationships. A smiling patient is our greatest reward and we look forward to keeping those smiles healthy, beautiful, and bright. Discover an affordable dentist who truly cares at Northern Virginia Oral & Maxillofacial Surgery Associates.